Growth Investing 1 - Not blogging for the past 2 months
Hello everyone! It's been a long time since I last blogged about trading and investing. Alot of things have happened since the start of the year. Right now, I am bombarded with deadlines and assignments. So? I am still going to blog anyway.
So Tumble Mumble has ended as it was mostly short-term opportunistic trades. It works well if I have time to monitor the markets. It was too tiring mentally to monitor the markets everyday.
However, I was drawn towards
Growth Investing
. So in short, I ended Tumble Mumble in January 2020 and managed to on top of recouping the
$6,000 SGD
lost from stupid trades, I made an additional $1,000+.
So starting Feb2020, I began reading books on Growth Investing. First, it was Grande Expectations by Karen Blumenthal, talking all about how a fund manager invested and believed in Starbucks. Beating all odds, and bearing the brunt for years of underperformance, the patience eventually paid off.
Next, it was Benjamin Graham and the Power of Growth Stocks. This was a more technical book, where it shared Graham formula which can be used to calculate the margin of safety of a stock. It also shared what to look out for in growth companies, using specific case studies.
I briefly read Rusmin Ang, Victor Chng's Value Investing in Growth companies. I felt it was very localised to Singapore's context and it worked well, for the period the book was published - 2010-2012. Singapore business does grow, but it is hard to have continual growth given Singapore's market size, unless they venture overseas. And, overseas is another kind of risk, which I won't wish to touch on.. Breadtalk.. Sakae..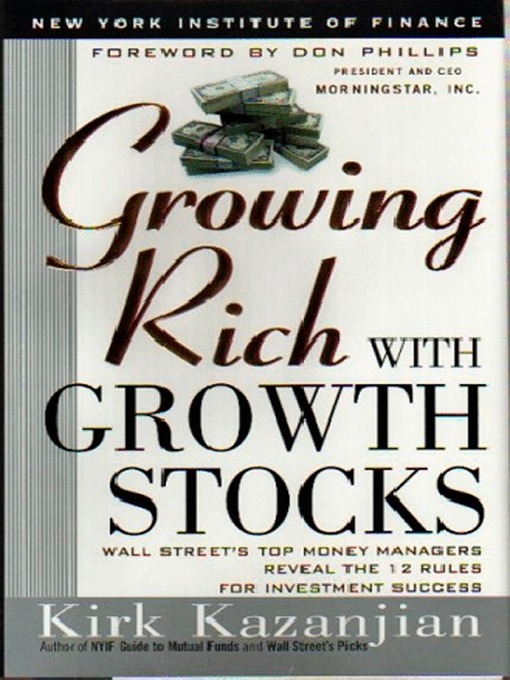 This is my favourite - Growing Rich with Growth stocks by Kirk Kazanjian. He is a journalist, but very much specialised in Finance. He has written according to accounts by Donald Yacktman, Robert Stovall, Shelby Davis, Roy Papp and Elizabeth Braham. I skipped some parts, and mainly took in their investment styles and lesson learnt in their journey.
All the books seems to focus on Patience. Growth investing requires patience, 3-5 years for the company to bear fruits. I am not sure if I have the patience.
But, what I did, was to craft a growth portfolio on my own. The silly thing is that I have built it before Covid-19 striked. I completed the portfolio in the first week of Feb 2020 just as Covid-19 became more and more popular.
I am tracking my portfolio on Investing note here -
Link
. Many mistakes made while building the portfolio. Long story short, I was too inexperienced in managing a portfolio when a crisis like Coronovirus strikes.
Paper loss stands as high as 15%, and is expected to worsen further. I am caught off guard with no spare cash to average down, which goes back to the point of Patience.
Are you confident in the companies you invested in?
More or less, a Yes. it is a portfolio focused on 1 insurance company, 1 Medical equipment company, and a Pharma company.
Applying the Graham formula:
This formula gave an overly high margin of safety. To be prudent, I applied this formula instead.
However, I took a step further to disregard the 4.4 and Y which will further increase the margin of safety. Applying this formula still gives a comfortable more than 40% margin of safety.
The large paper loss was because I averaged down too quickly and fail to judge the overall scenario on where the market is heading.
3 companies in my portfolio
Inmode Ltd
is specialised in selling medical devices that they manufacture in the Beauty industry. It has a forecasted growth of 27% in 2020 which the management mentioned they have already factored in the Coronavirus impact. Their subcontractors are in Israel, and they source for components from China. Management has mentioned that they will look for alternatives.
National Mortgage Insurance
is a simple mortgage insurance business. It experienced growth in Net new policies compared to its peers. It remains the newest member among other mortgage insurers. Growth is still present at the rate of 7-10%. Its investment portfolio (as an insurance company) is largely in US treasuries and Corporate bonds. In a way, they enjoy capital gains from the market correction, some consolation to the bad economic outlook.
Luye Pharma
is hovering around PE ratio of 10. Growth is present, at about 20-30%. Not sure if coronavirus will impact it significantly, but people still need medicine I suppose. Looking forward to its annual report in Mar 2020.
I was in HEC Pharma too, the top seller of Tamiflu in China. Got out too quickly. Oh wells, I wanted cash in my portfolio.
Yes, these are the events that have occurred while I took a break from writing.
Plans for future
Meanwhile, there is no concrete plans for what is to come next. The most likely scenario is adding of REITs to portfolio on the Dips.
PE ratio hit 18.5 during the 2018 December correction. Applying to the current context, S&P 500 will be at 2,800 region. PE ratio hit 15.5 during the Global Financial Crisis. S&P 500 should be around 2,300 region if a similar event occurs..
To put it simply, a correction should push S&P 500 down to 2,800 hypothetically, and a market meltdown will push it down to 2,300 region.
Average down, or more investments, let's talk about it when S&P 500 hit these levels. Patience.
This is my growth investing journey, and I hope it will turn out to be a positive one.
Cheers!
~Mr Llama