A Saturday with REITs to Riches by Tam Ging Wien - Everything you need to know about investing profitably in REITs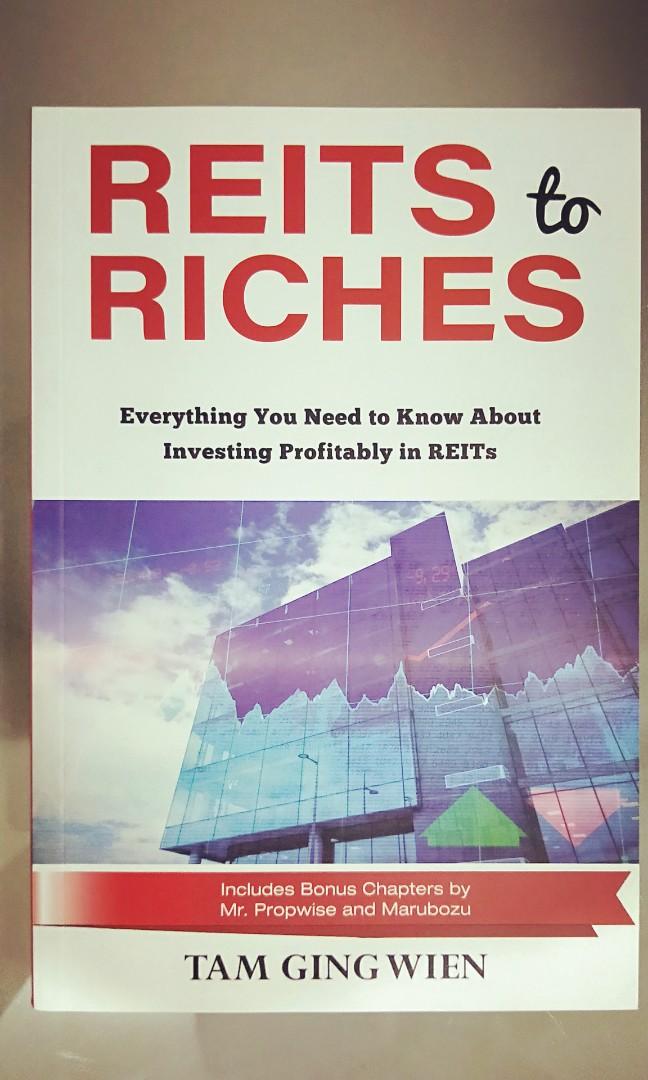 As part of the movement of learning from the experts, I have attended talks by
Kelvestor
and
Christopher Ng
. Right now, I am reading this book called 'REITs to Riches'. The book is written by Mr Tam Ging Wien. Let's do a quick look up on his name.
Here's what I found out:
1. He is all about REITs.
2. He has
courses
where you can sign up for at low cost. I saw one priced at $15. Well, some goes into the hundred.
3. He has great media coverage on topics related to REITs.
4. His blog displays an insane amount of passion in REITs. I mean, they actually visited buildings in China owned by
EC World REIT
. (This actually gives me the confidence to invest in EC world as it is in my watchlist.)
So, what did I learn that I can apply to
Llama REITs
?
Ageing population gives opportunities
I have recently got to known about properties that are specialized for the senior citizens. These are known as 'Assisted living' properties and are touted by big names like Robert Kiyosaki.
Well, the book reflects this concept too, and its written way beforehand in 2017. From the year 2000, the percentage of population aged 65+ will grow significantly by the year 2050 (Forecasted).
Singapore - 7% in 2000 to 29% in 2050
Japan - 17% in 2000 to 37% in 2050
China - 7% in 2000 to 24$ in 2050
*Data shown is quoted from the book REITs to Riches.
Singapore context, you can look at First REIT and Parkway Life REIT.
17% withholding tax to be paid if you invest in a REIT ETF
I have no idea about this, until I read the book. I was always wondering why REIT ETF is lagging the gains or actual REITs. My decade long question is finally answered.
Prompted by the book, I read up on the net -
https://www.businesstimes.com.sg/stocks/singapore-budget-2018/singapore-budget-2018-reit-etfs-to-enjoy-tax-transparency
.
So this is the idea:
REITs behaviour in market downturn
I have not started investing back in 2008. Hence, this book serves well to give me a glimpse of how REITs behave during a financial crisis.
I was unclear of why REITs with reputable sponsors are more highly valued compared to those without. Example of reputable sponsors are Capitaland, Frasers, Mapletree, or Ascendas.
Back in 2009, at the height of the financial crisis, Capitaland made a $1.23 billion cash call in Capitamall Trust. Capitaland also injected $828m into CapitaCommercial trust.
Similarly, Frasers also refinanced the debt of Frasers Commercial Trust through its wholly owned subsidiary, F&N Treasury Pte Ltd.
Having a strong sponsor also probably means lower average cost of borrowing for the REIT. A healthy pipeline of properties to be pumped into the REIT entity. most importantly, it has a much lower chances of going bust.
Balancing your REITs portfolio
On this part, I have picked it up from Vince, where one is to allocate a certain % on each type of REIT. For instance, 15% on each type of REIT, instead of putting all your money on only Office based REITs.
With REITs merging recently (example like Frasers Commercial an office reit merging with Frasers Logistics REIT), blurring the lines between each category of REITs. It is still crucial to ensure your REITs portfolio is well spread out across different industries.
If you read my Llama REITs post,
Llama REITs
,
you will know that I hold only 3 REITs. Thus, I would aim to add either industrial or healthcare REITs next.
This spreads out the risks across different sectors. I also learnt that Office reits itself is a portfolio of different companies too. For example, an office building will be leased out to different companies. It is good to know that different companies of different profiles is occupying the office building.
When a sector is hit badly, like the oil sector in the recent years, the REIT performance will not be affected too much on an overall basis.
The book also discusses about breaking your portfolio into 3.
Strategic, Tactical, and Opportunity components
Strategic REITs are defensive and the ones you hold for long.
Tactical REITs are to allow you to capture potential upsides or profit from economic cycles.
Opportunity component is made of highly liquid assets, where you can draw upon to capture any potential opportunities in undervalued REITs.
Well, I consider myself highly defensive. The only opportunity I have, as of writing, is to price in First REIT units at $1.000 each. Of course, I am using my Opportunity component, the last shot of $5,000 available for this. Let's see if I can get the order by the end of week.
It is not a matter of "If", but "When" opportunities will come
This is a good reminder to self. Be confident of trades, and do not sell too early. I have been trying to digest this, "Hold on to gainers, sell off the losers."
It is not easy, and here we are, not trying to time the market. Not trying to beat the market by buying low, but at least, we should fight to be confident enough to be convicted to our trades to reap the benefits.
Tracking the buyers of the REITs
Yes, this is going to SGX to trace who is buying or selling off the REITs. This is basics, and something my father does not do. Yes, he is those uncle that buys and sell on pure hearsays.
For example, by visiting SGX -
Capitamall trust page
, I know that Temasek holdings bought $1.91m of Capitamall trust units at $2.4652 each.
1. Click on the link shown here.
2. Click on the links at the next page too. The one below works well for me.
3. Scroll down to see that the transaction is performed by Temasek Holdings.
4. Scroll down further to identify the number of units and amount paid by the Substantial unitholder.
5. Read the transaction description if required.
It is good confidence if you observe a substantial shareholder buying more and more units over time. It could also mean that the particular REIT is undervalued.
In the book, he also mentioned the benefits of attending AGMs of the REITs. You get to ask the management questions during the AGM, and get to hear the tone towards the REITs' prospects. Are recent actions at the expense of minority shareholders?
Well, I am not someone to attend AGMs. You can always check out Fifthperson's posts on the things he learn from AGMs -
https://fifthperson.com/2019-capitaland-agm-egm
.
Don't buy into a REIT because of its yield
This is good warning to all new REIT investors. Personally, I have bought into Cambridge and Lippo Malls in 2012 because of its high yield. Mistake? You bet it is.
I like how the author presented a falling DPU alongside the annual presented yields. Sabana REIT was able to maintain its 'high 10% yield' from 2011 to 2016, despite Dividend per unit falling. This is possible because unit price was falling too.
Simply, a good book
I already have great amount of REIT knowledge because of the mentor I have. Its amazing the book teaches about certain small but crucial details like income support from sponsor.
It also shares concisely on common traps investors fall into, which many people including myself have fallen into. Its good that he captures and teaches you about risks of REITs in a user friendly way too - Interest rate risk, Capital management risk (Gearing), Exchange rate risks, Concentration risk (tenancy) and so on.
I like that he shares openly about how the low interest rate environment is good for REITs. Some trainers refuse to thank the low interest rate environment, but instead, credit themselves for the investment gains they have had.
Well, after reading the book, maybe its time to do some REIT analysis instead of relying on my mentor.
~Mr Llama
(Sadly, I have to return the book to the library in 2 weeks time.)
_______________________________________________________
Courses by Mr Tam Ging Wien can be found here -
https://www.eventbrite.com/o/tam-ging-wienong-chiew-ling-17071081905
This is how the book looks like -
http://aktive.com.sg/store/reits-to-riches/